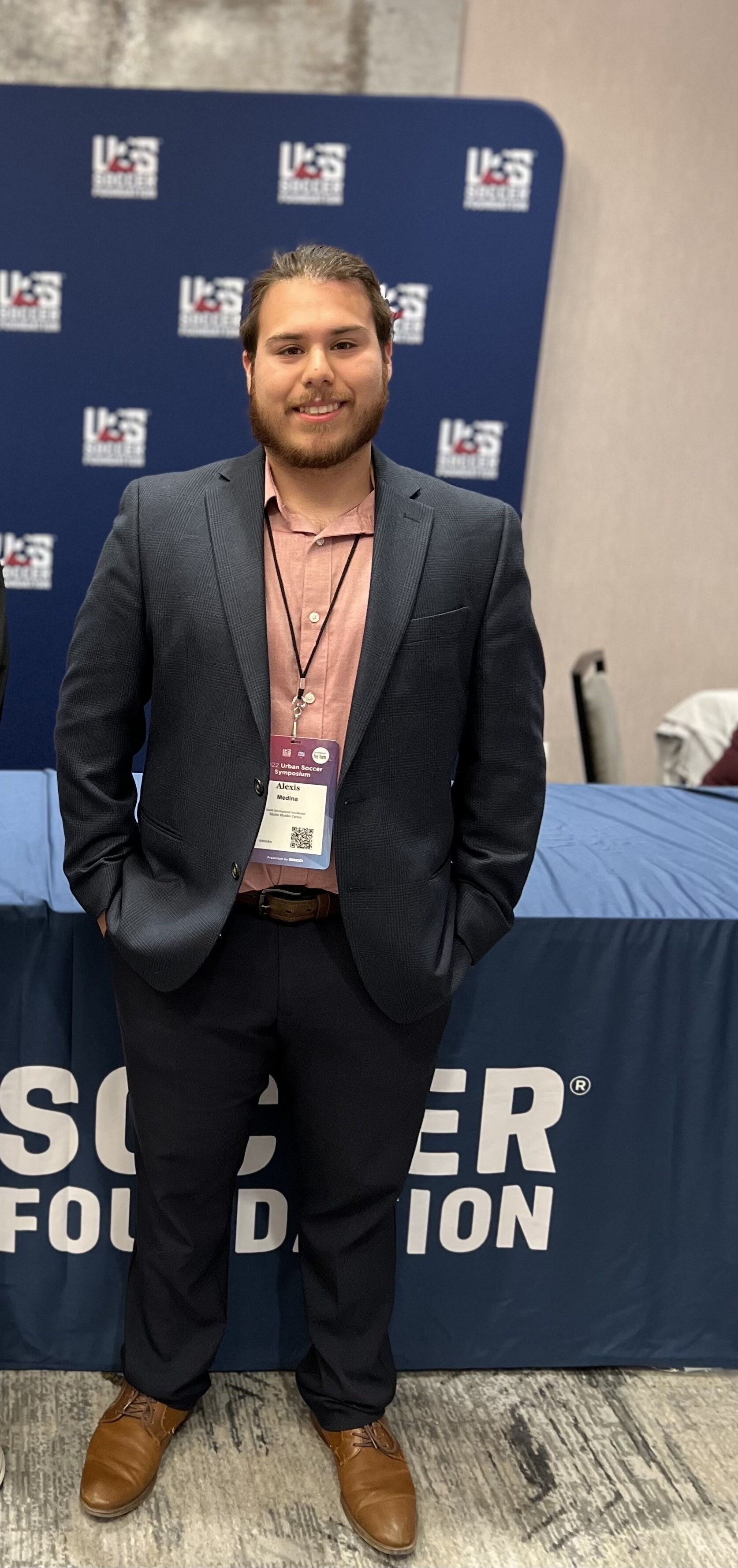 Arrupe Jesuit High School is not just a place of education; it's a place where lives are transformed, where teachers become mentors, and where students find inspiration to reach for their dreams. Today, we are privileged to shine a spotlight on one of our remarkable faculty members, Alexis Medina, a person whose journey to Arrupe mirrors the very spirit of our institution – a spirit of service, dedication, and compassion.
Alexis is a beloved member of our Arrupe family, whose story is as inspiring as the education he imparts to our students. Raised in the heart of Kansas City, Missouri, Alexis began his educational journey at Cristo Rey Kansas City, a sister school to Arrupe Jesuit and also part of the Cristo Rey Network. It was there that he first encountered the Cristo Rey Work Study Program (CWSP), an experience that would later become an integral part of his own student experience and formation.
Following high school, he ventured into the corporate world, spending four years at Garmin International. But the call to education, to make a difference in the lives of young people, beckoned him. He took on the role of a soccer coach and mentor at the Mattie Rhodes Center, a non-profit organization in Kansas City. It was a formative experience that would shape his path toward Arrupe Jesuit High School.
Working with elementary and middle school-aged youth from diverse backgrounds across the Greater Kansas City Metro Area, Alexis discovered the profound importance of building and nurturing relationships. More than just teaching soccer skills, he learned the power of genuine care and the energy that positive connections can bring. These young individuals, despite facing challenging circumstances, showed up every day ready to play, reminding Alexis of the significance of intentional and compassionate interaction.
While pursuing his education at Rockhurst University, Alexis was introduced to the Alum Service Corps (ASC) program, which would ultimately lead him to Arrupe Jesuit High School. The prospect of serving at a Cristo Rey school in a city he had always wanted to live in was too compelling to resist. And so, he embarked on a two year journey as a volunteer at Arrupe, where he discovered his passion for education.
Today, Alexis is an integral part of the Arrupe community, serving as a Spanish teacher for four years and counting. For him, teaching is not just about imparting knowledge; it's about building connections with students, listening to their stories, and witnessing their growth and achievements, no matter how small. At Arrupe, he has found fulfillment in helping young minds and hearts flourish.
One of his most cherished experiences at Arrupe has been coaching soccer for both the boys' and girls' teams. Traveling into the mountains to play league opponents, such as the unforgettable 5-hour drive to Pagosa Springs, provided moments of camaraderie, authenticity, and a sense of family. The joy of seeing his students bond and enjoy each other's company, along with the taste of victory, made these trips even more special.
But his journey at Arrupe would not be complete without acknowledging the profound impact of his first mentor, Chris Freeburg. Chris has been instrumental in shaping Alexis's approach to education, both inside and outside the classroom. His guidance, mentorship, and friendship have extended far beyond the confines of the school, teaching Alexis not only about teaching values but also about being a better human being.
Arrupe Jesuit High School is more than an institution; it is a community of educators and students who inspire one another. Alexis has found a place here where he can continue to grow, learn, and make a difference in the lives of our students. His journey is a testament to the transformative power of education and the incredible individuals who make Arrupe Jesuit High School a place of profound impact and lasting connections. Thank you, Alexis, for being a part of the Arrupe family!