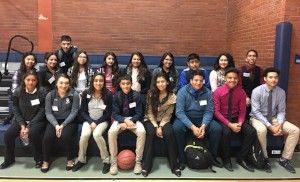 Arrupe Jesuit High School offers 8th graders the opportunity to spend a day on campus to experience what it's like to be an Arrupe student. 8th graders are paired up with current Arrupe students on their visit day. Our 8th grade visit season for the 2021-2022 school year will run from September 15 through November 19.
8th Grade Visit Day Schedule
8th Grade Students should report to the front lobby at 7:45am. They will attend a full day of classes and lunch will be provided.  Dismissal for 8th Grade visits is at 2:00pm and all students will be dismissed from the front lobby.
Parents are also invited to join the visit:
8:00am-9:00am for welcome & school tour
1:15pm - 2:00pm for end of day presentations from the Corporate Work Study Program, Athletics, and Admissions
8th Grade Visit Day Important Documents
8th Grade Visit Day Attire
Business professional or middle school uniform.
Young Ladies: A button up blouse with sleeves, dress pants (or knee length skirt) and dress shoes.

Young Men: A long sleeve dress shirt, tie or bow tie, dress pants, dress belt and shoes.
Contact the Admissions Office at 303-455-4661 if you have any questions.