We are thrilled to welcome four professional volunteers this school year through the Arrupe Jesuit Volunteer Program, ASC Volunteer Program & Colorado Vincentian Volunteer Program!
Meredith Blatner

As I wrap up my four years at Saint Louis University, I feel a deep sense of gratitude for my role models as they are the individuals who have motivated me to be a leader of today and commit to teaching and mentoring our leaders of tomorrow. I am excited for the opportunity to serve others and continue my own discernment through the Alum Service Corps at Arrupe Jesuit High School (Denver). I cannot wait to get started with the crazy cool adventure that is teaching, mentoring, and coaching.

Alex Garcia

I am excited to join the faculty at Arrupe Jesuit High School to help teach the young men and women. Hopefully I can give back to them, through teaching and mentoring, as much as I was given as a student at Strake Jesuit College Preparatory. I am honored to be given this opportunity to serve others and will take full advantage of it in order to help form men and women for others.

Sean Hynes

Upon my introduction to Jesuit education when I began studying at Saint Louis University (St. Louis, MO.), I quickly realized just how transformative of an experience it can be to reflect on who I am not just as a student, but as a whole person.  This realization allowed me to see how my education spanned much further than just what I was learning in the classroom, and it charged me to constantly seek out opportunities to learn more about myself and my place in the world around me.  The relationships, experiences, and lessons that I have come away with from my time at SLU instilled in me a desire to give back and serve in gratitude for all the incredible gifts that I have been afforded through my own formation in this rich faith tradition.  I am deeply grateful for the opportunity to get to do so as a teacher and mentor this year at Arrupe Jesuit (Denver, CO.) with the Alumni Service Corps.  I hope to walk with the students and accompany them as they grow in their own self-understanding to uncover where their gifts and passions lie, just as my friends and mentors have done for me in the past.

Scott McKillip

Joe Simon

Joe Simon, a graduate of Miami University of Ohio (Oxford, Ohio), will co-teach freshman math and English, mentor students in advising groups, coach, work on specialized academic support teams, and assist with the Corporate Work Study Program. "I am humbled and honored by the opportunity to serve in Alum Service Corps at Arrupe Jesuit High School (Denver). I am looking forward to the friendships of my fellow volunteers and interacting with the students of Arrupe on a personal level. I hope to provide for them the guidance and support that ASC teachers gave me at Rockhurst High School (Kansas City, Mo.). I am especially excited to coach baseball, my favorite sport! ASC is a unique opportunity for spiritual and personal growth, and I cannot wait to get started!"

Theresa Vitolo
---
Alum Service Corps (ASC)
The Alum Service Corps offers graduates of Jesuit high schools and Jesuit universities an opportunity to give back in gratitude for their Jesuit education by committing a year of service as faculty members in Jesuit middle or high schools. This year, 17 young men and women are serving at 6 Jesuit schools across the U.S. Central and Southern Province.
Alum Service Corps volunteers serve at Jesuit middle and high schools throughout Denver, Kansas City, and St. Louis.  Members of ASC live in community, commit to growth in the Ignatian tradition, and serve their students out of gratitude for their Jesuit education.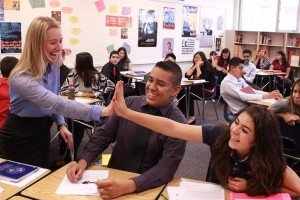 Typically, ASC volunteers teach two or three sections in an area of competence and immerse themselves throughout the life of the school: coaching, tutoring, club moderating, service programs, campus ministry, and driving.  ASC volunteers support students from a unique position and offer them a model of the Graduate at Graduation.
Get to know more about the program, or apply to join, through the Alumni Service Corp website and blog!
---
Colorado Vincentian Volunteers (CVV)
The Colorado Vincentian Volunteers are a community of faith and action that responds to the Gospel call in the spirit of St. Vincent de Paul. They are young men and women, ages 22-30, who serve the elderly, homeless, developmentally disabled, troubled youth and those who are poor. The year-long program offers an opportunity for spiritual, emotional, professional growth, and a way of discerning and living one's Christian vocation.
Get to know more about the program, or apply to join, through the Colorado Vincentian Volunteers website!
---
Ignatian Volunteer Corps (IVC)
The Ignatian Volunteer Corps (IVC) connects men and women with community partner organizations in order to offer their professional talents and experience in service to the materially poor or with organizations addressing the social structures affiliated with the materially poor.  The volunteers are typically retired professionals, aged 50 or better, with well-developed skills and a continuing desire to apply those skills in service to their community.  Besides the benefit of working with a purpose, IVC volunteers receive the benefit of reflection guidance, using the Spiritual Exercises of St. Ignatius Loyola.  Volunteers distill the intrinsic value of their work and talents through interactions with individuals at their placement site. The reflection component — a unique aspect of the IVC structure — enables volunteers to identify the manifestation of Christ through these face-to-face interactions. The combination of interaction and reflection centers volunteer and allows them to continue to grow as a manifestation of Christ, also.
Get to know more about the program through the Ignatius Volunteer Corps website or apply to join the Denver community through its site.