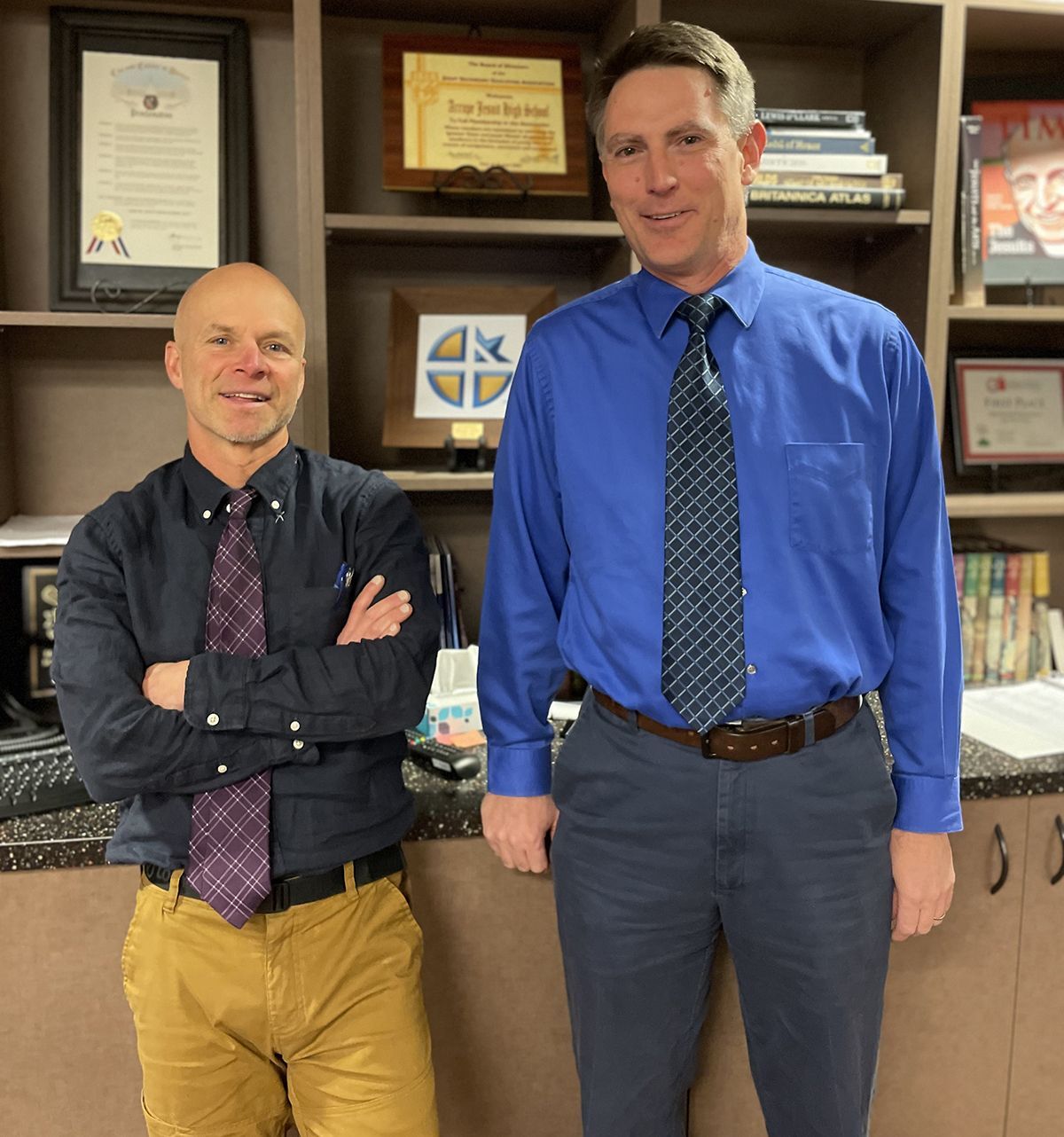 As we celebrate the history and achievements of our school community throughout this 20th Anniversary school year, we would like to highlight our faculty & staff whom we would not be here without.
Stephan Graham and Brent Dexter have been with Arrupe Jesuit since its first year of opening. We recently had the opportunity to sit down and visit with them about their experience in education, how they joined Arrupe, and some of their favorite memories in their career.
Q&A with Stephan Graham:
Stephan has been a math and science teacher in urban America for over 25 years! As a Latino, his passion for working in urban America derives from the recognition that other Latinos and non-whites make up a growing segment of the US population, yet they are the least likely to graduate from college, and even less likely to enter fields of science, technology, engineering and mathematics.
Outside the classroom, Stephan spent an academic year as an Albert Einstein Distinguished Educator Fellow at the US Department of Energy. Significant contributions that he made during his fellowship included an exhaustive STEM workforce assessment of their National Laboratories, and the design of team academic challenges for the High School National Science Bowl. Stephan has also been involved in a teacher preparation program at the Colorado School of Mines (CSM) for the last seven years. This unique program offers a path toward secondary teaching licensure in science or math for CSM students. As an adjunct instructor for the program, he has taught courses in Early Field Experience, teaching in high needs schools and several book-club seminars.
Q: Where were you born?
A: I was born in Veracruz, MX. I moved from Veracruz to Mexico city when I was a few years old and from there to Pittsburg, Pennsylvania when I was 12 years old.
Q: What did you do after High School?
A: After high school, I went to Rutgers University to get my Engineering degree, then I attended Penn State to get my Master's degree in Materials Engineering. After that, I went to work at Corning Inc. as a Process Engineer in the Glass Technology division.
Q: How did you decide to start teaching?
A: When I started my career at Corning, I had also joined one of their outreach programs and found that I enjoyed it a lot so I knew I had a penchant for wanting to work with kids. Around this time I also read Savage Inequalities by Jonathan Kozol which made me think about education and how students do not get equitable opportunities in science education. So after about five years of working as an engineer, everything seemed to come together and I decided to apply to the Inner-City Teaching Corps of Chicago. Shortly after, I began my career as an 8th grade teacher. I was down the street from the first Cristo Rey Jesuit high school that ever opened. One day, the Admissions Director came in and talked about Cristo Rey's mission. I became good friends with her and as a result, it was a seamless transition when I joined Cristo Rey. At Cristo Rey, I taught physics, chemistry, and english.
Q: How long have you been teaching now?
A: I taught 2 years at St. Paul, 4 years at Cristo Rey Jesuit in Chicago, 1 yr at the International School of Madrid in Spain, and 20 years here at Arrupe Jesuit High School.
Q: What would you tell your younger self in the early years of teaching?
A: I am a part-time snowboarding instructor and we have three goals that we set for our clients and they are: be safe, have fun, and learn. Only when they are safe and having fun are they learning; this is now my very intentional approach to teaching science.
Q: What gives you the most energy as you come in to teach every day?
A: Knowing that the students are going to be safe, have fun, and learn gives me the energy to keep going. When kids come into the classroom and see that I am excited and that there are materials laid out and that they're going to be "doing science" they get very excited about it and that gives me energy.
Q: Is there any year, or moment, or student, or memory that sticks out to you the most over your teaching career?
A: I was teaching 8th grade and I was in my second year and I thought I was doing a great job. This tutoring club from Cristo Rey Jesuit shows up with a guy by the name of Mr. Dexter, who was the tutoring coach, and he said, "We're here to tutor your 8th graders," and I said, "What?" (chuckles) So, I got to meet Mr. Dexter before I moved to Cristo Rey Jesuit and the first year there was interesting because we shared a classroom and I would always go in there and I would say to him, "If you could sort of just clean up a little bit, that would be great," not realizing that he had already cleaned up. Then we both started at Arrupe Jesuit the same year so it was almost providence that we just followed each other into our 20th year here at Arrupe.
Q: Is there any advice you would give to teachers that are just starting out right now?
A: We put so much emphasis on content, and don't get me wrong, content is hugely important but when kids come back to visit, they don't remember the content. They remember the science we did and the relationships/connections we made and so I would tell those beginning students - be safe, have fun, learn.
---
Q&A with Brent Dexter:
Brent Dexter is in his 26th year teaching social studies (20th at Arrupe). Before teaching at Arrupe, he taught in Chicago (Cristo Rey Jesuit), Monterrey, Mexico, and Fort Lupton.
He grew up in Indiana, studied history and Spanish at Grinnell College in Iowa, and later got his master's degree from Regis University. He enjoys reading, hiking, and spending time with family. He and his wife Cari have 3 children.
Q: Where are you originally from?
A: I am from Indiana, went to high school in West Lafayette right near Purdue University.
Q: What did you do after high school?
A: I went to Grinnell College in Iowa; I studied History and Spanish and took Education classes so that I could get my license to student teach the semester after graduation. I was a part of the Urban Education Program in Chicago; I had the option of going to teach in rural Iowa but I was really interested in bilingual education so since my college, along with a bunch of other liberal arts schools had a program in Chicago, I did bilingual ed in Chicago Public Schools during the same fall that Cristo Rey Jesuit High School opened up in another part of the city.
Q: Were you there during the opening of the Cristo Rey High School in Chicago?
A: I was there during year 2 and was blessed to teach the first graduating class in Chicago; they were seniors for my first year of teaching. I was there years 2-6.
Q: What brought you to Colorado?
A: My wife is from Colorado and I had also known about the possibility of Arrupe Jesuit in Colorado so during my next to last semester in Chicago, while completing an exchange program in Monterrey, Mexico, I remember emailing Father Tom Cwik, SJ who was doing the feasibility study, from Mexico. I was in Fort Lupton for a year in their bilingual program not knowing if Arrupe Jesuit would have me.
Q: How long have you been teaching now?
A: 5 years at Cristo Rey Jesuit in Chicago, 1 year at Fort Lupton, and 20 years here at Arrupe Jesuit.
Q: What advice would you give your younger self in the early years of teaching?
A: Be patient with yourself and be patient with the kids. I don't think I was impatient when I started but I notice in younger teachers, they put a lot of pressure on themselves in trying to put together the perfect lesson and perfect day. Not that you don't want to prepare and get ready, but there is so much unknown in a given day, in a given lesson, in a year; you need to be flexible and give yourself some forgiveness and grace to make mistakes and enjoy the moment and enjoy your time with the students.
Q: What gives you the most energy as you come in to teach every day?
A: It's never the same, we teach different subjects and in Social Studies there are always current events to react to but I enjoy learning with students. They're curious about the world and I am curious about the world. Certainly the technology is vastly different where kids can come into class with their cell phone that they looked at in the bathroom and ask, "Is it true? Are we really going to World War 3?" which is different from what a kid in 1996 would have said to me. I am energized by that - by just learning along with kids and accompanying them in their process.
Q: Is there any year, or moment, or student, or memory that sticks out to you the most over your teaching career?
A: I am thrilled to have so many of our former students as our colleagues and to see their growth and maturation and what they've become in their lives and with their families; it's really a treat for me. Also, when we were a much smaller school, I used to teach the sophomores and seniors and I used to joke with the seniors and tell them, "I've matured a lot since we last hung out together," and I find seeing that year-to-year progression to be very life-giving.
Q: Is there any advice you would give to teachers that are just starting out right now?
A: I try not to give too much advice but to younger teachers, especially in Social Studies, I'd say I think we've all had teachers who were very, maybe, overly confident and would never admit when they didn't know something, which I think is ridiculous. I always tell people if you don't know something, just say, "I don't know, let's find out." to encourage that spirit of inquiry and learn from your confusions because that's why we're here.