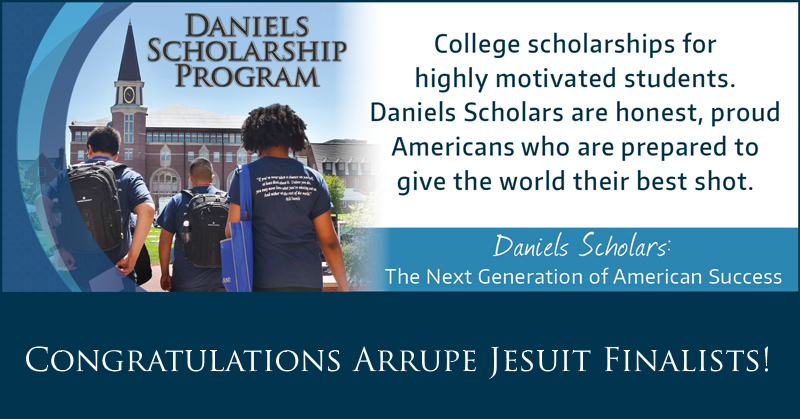 We recently learned that 8 Arrupe Jesuit Seniors have been selected as Finalists for the Daniels Scholarship, the most of any high school in Colorado.
The Daniels Scholarship Program provides the opportunity for highly motivated students to earn a bachelor's degree that helps them build a successful career and rewarding life. Daniels Scholars® are honest, respectful, self-reliant, and compassionate. They are proud Americans who value our free enterprise system and are prepared to give the world their very best shot. Arrupe Jesuit had 30 students eligible to apply, of which 23 submitted applications.
The Scholarship finalists will move on to personal interviews in February, and awardees will be announced in March. Please keep these hopeful Seniors in your prayers as they prepare for their interviews, as well as their classmates who are managing the disappointment of not having advanced in the process.
Please join me in congratulating Fr. Nugent and our faculty, and the Corporate Work Study staff and their partners for the manner in which they've prepared our Seniors for success beyond Arrupe.
Our highest recognition and gratitude must go to Joanne Augustine and her team, Ally Chacon Vazquez and Micaela Escontrias, for their commitment and dedication to Arrupe Jesuit Seniors as they negotiated the demands of the college and scholarship application process.