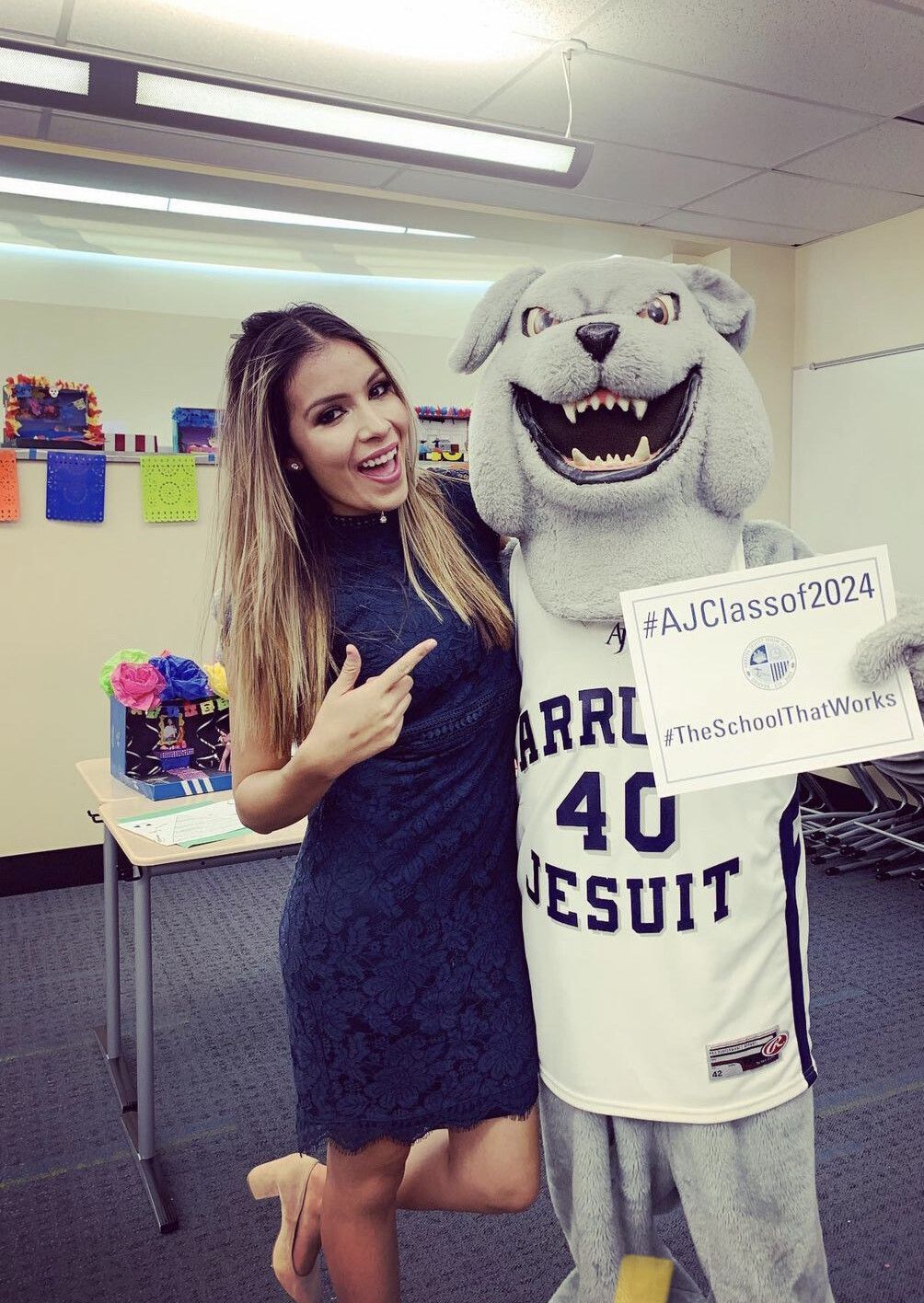 Here at Arrupe High School, we are blessed with a faculty that is not only dedicated but also deeply passionate about our mission to nurture the hearts and minds of our students. Today, we want to shine a spotlight on one of our extraordinary educators who has been an integral part of our community for five years now - Valerie Sarracino, our Spanish teacher and Department Chair.
Valerie's journey to becoming an educator started in Alamogordo, New Mexico, a quaint town with just over 30,000 residents. Valerie's academic journey took her to New Mexico State University, where she pursued her Bachelor's degree in Foreign Languages with a focus on Spanish. Little did she know that this academic pursuit would become the foundation for a remarkable career in education.
Before arriving at Arrupe, Valerie had a diverse range of experiences that molded her into the dedicated faculty member she is today. One particular experience that profoundly influenced her path was her time working at Holloman Air Force Base. In this role, she served as a Case Manager for young migrants who had been separated from their families. Valerie's compassion shone brightly as she volunteered her time to help these children learn English. This experience ignited her passion for teaching and instilled in her a desire to make a positive impact on the lives of young individuals.
At Arrupe High School, Valerie holds the role of Spanish teacher and Department Chair. Not only does she focus on teaching the Spanish language; she also delves into history, Latin American literature, and culture. Valerie's journey at Arrupe has spanned five years, and her presence has been a source of inspiration and guidance for countless students.
When asked about her most memorable and rewarding moments at Arrupe, Valerie's face lights up with enthusiasm. She speaks passionately about the "cura personalis" that she witnesses in her students every day - the care and compassion they have for their community. Her most cherished memories are the ones where students discover pride in themselves and their work. For Valerie, these moments are priceless because they signify a student's realization that their efforts benefit themselves but others as well. It's in these moments that the true mission of Arrupe comes to life.
For Valerie, her parents are her greatest inspiration. Their unwavering dedication and hard work have always pushed her to strive for excellence. Their love and compassion have not only shaped her character but have also inspired her to extend the same love and compassion to her students.
Valerie Sarracino is a shining example of the exceptional faculty we are privileged to have at Arrupe High School. Her journey from a small town to our community, driven by a deep sense of compassion and a commitment to education, exemplifies the values we hold dear. We are grateful for her dedication, passion, and the positive impact she continues to make in the lives of our students. Thank you, Valerie, for being an invaluable part of the Arrupe family. Your work truly embodies our mission of nurturing hearts and minds.