Arrupe Jesuit High School is seeking virtual volunteers to serve as essay readers for the Pedro Arrupe Writing Challenge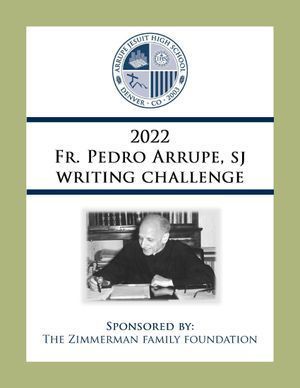 Enjoy creative writing? We are looking for essay readers to evaluate and score student writing entries in the Pedro Arrupe Writing Challenge (PAWC). Your evaluations will lead to the selection of contest winners, with prizes awarded to 1st, 2nd, and 3rd place writers. This is a virtual volunteer opportunity, where you will receive Google Drive links to 7-10 anonymous essays (each about 2 pages long), along with a detailed rubric for scoring. Essay links and rubrics will be emailed on April 11 and are requested back by Thursday, April 21.
There will be an awards breakfast at Arrupe Jesuit High School on Monday, April 25 at 8:30 AM, where our top three writers will read their essays aloud and receive their prizes. Volunteer readers are invited to attend, along with Arrupe teaching faculty, student writers, and the families of our top three writers.
Learn more about the Pedro Arrupe Writing Challenge and read past essays here!