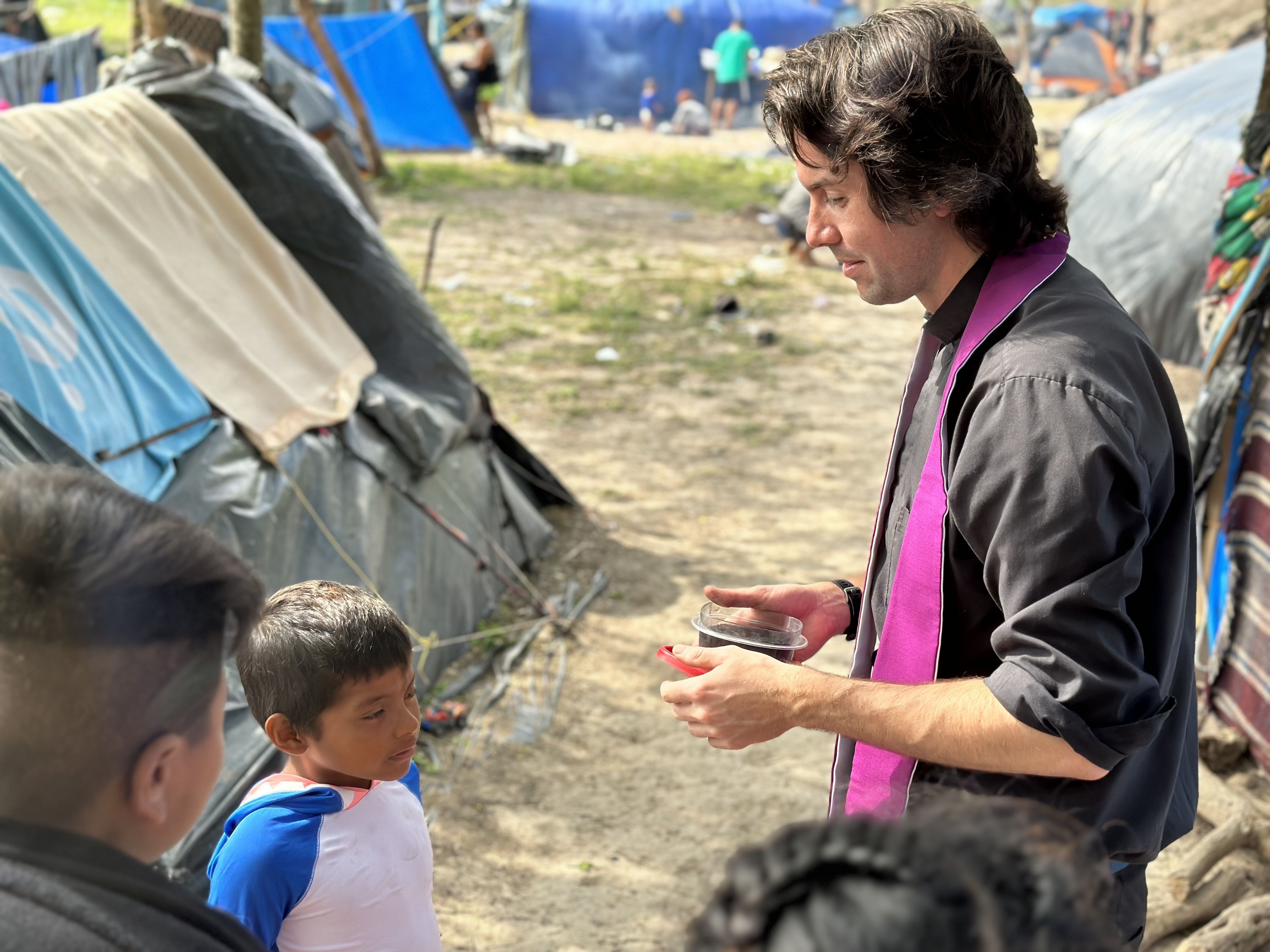 We have some incredibly exciting news to share with our Arrupe Jesuit High School community! We are delighted to announce that Fr. Louie Hotop, SJ, will be joining our school as the Assistant Principal for Mission. With his extensive experience and passion for spiritual formation, Fr. Hotop will play a pivotal role in enriching the spiritual growth of our students, faculty/staff, and families.
"I'm so excited to be returning to Arrupe, which has always been close to my heart! I am humbled to be walking in the footsteps of many great Jesuits, and I look forward to all the blessings God has in store in the year to come." Fr. Hotop, SJ
Fr. Louie Hotop's journey with the Jesuits began in St. Louis, Missouri, where he discovered his calling while attending St. Louis University High School. Fr. Hotop was actively engaged in various youth groups, Boy Scouts, and campus ministry, which fueled his desire to dedicate his life to the mission of serving others. Supported by his loving twin sister, two brothers, and parents, he made the decision to enter the Society of Jesus immediately after high school, at the age of 18.
As a novice, Fr. Hotop embarked on a transformative journey, serving at L'Arche in Kansas City, Regis Jesuit High School in Denver, and St. Peter Claver Parish in Punta Gorda, Belize. He then pursued his bachelor's degree at Saint Louis University, majoring in philosophy and Russian studies. Displaying his incredible dedication, Fr. Hotop sought to enhance his Russian skills by immersing himself in the Jesuit and Catholic communities in Siberia, where he taught English at summer camps and resided with the Missionaries of Charity, caring for the destitute and those struggling with alcoholism.
Continuing his spiritual journey, Fr. Hotop was assigned to St. John's College in Belize City, Belize, during his regency period. Following that, he spent three years at Arrupe Jesuit High School in Denver serving as the director of campus ministry and as a theology teacher. His infectious passion and devotion left an indelible impact on our students and staff and Arrupe is very excited and blessed to have him back on Utica Street.
Immediately after his service at Arrupe, Fr. Hotop returned to studies and earned a Master of Divinity degree at the prestigious Jesuit School of Theology (JST) of Santa Clara University, in Berkeley, California. During his time at JST, he also dedicated himself to an initiative called the Gubbio Project. This remarkable outreach program, based in San Francisco, opens empty churches to provide individuals experiencing homelessness with a safe place to rest during the day.
For the past 2 years he has been serving at the Diocese of Brownsville, Texas, where he served on the border, ministering to migrant communities and providing sacramental support to the diocese.
With his diverse experiences, profound wisdom, and infectious enthusiasm, Fr. Louie Hotop, SJ, is an exceptional addition to the Arrupe Jesuit High School community. As our Assistant Principal for Mission, he will play a crucial role in enhancing the spiritual formation we offer to our students, faculty/staff, and families and and have no doubt that he will make a profound difference in the lives of countless individuals.
Let us warmly welcome Fr. Hotop to Arrupe Jesuit High School!