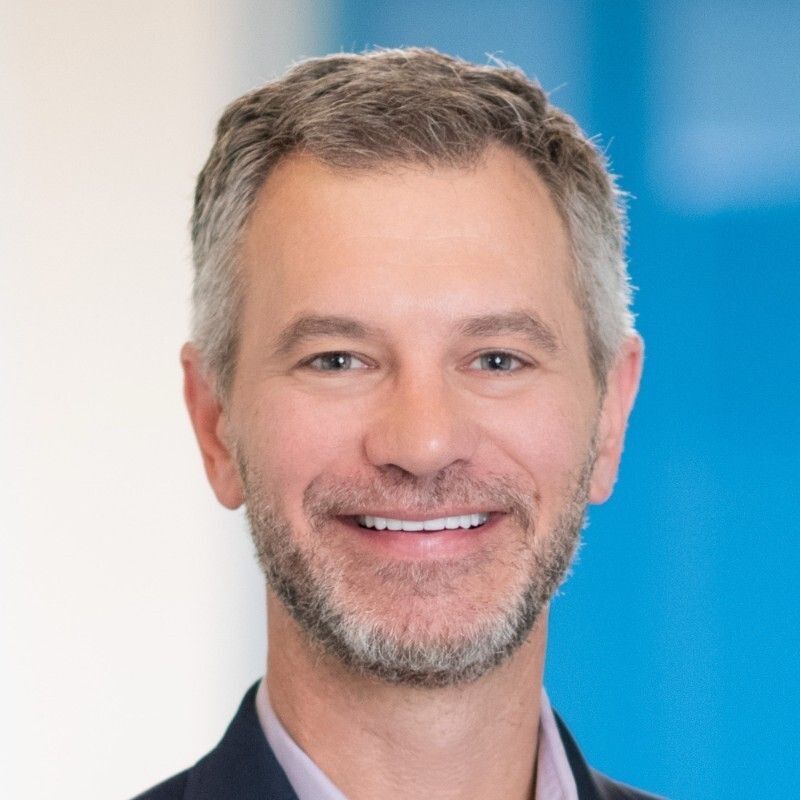 "In my opinion, our partnership yields more benefits for us than it does for you. Your students serve as an inspiration for our team, as they represent our community and are a valuable investment."
For those that don't know the history of St. Joseph Hospital can you give us a brief background of the organization?
It's exciting to just start out by saying we're going to turn 150 years old in September, which is incredible in itself. That an institution has been essentially in one place, serving its community for that long is a testament to how strong it is and how vibrant it is. The organization looks different than it did in 1873. Bigger buildings, more people, more technology. But I think the secret to that success is that what hasn't changed is the spirit of the sisters and the mission that they came with, to serve everyone with a preference for the poor and vulnerable. That's the unique thing I think that we always point out about our mission, we are really bound and committed to social justice, and we're more than a hospital.
Where are you from and could you share more about your background with us and what influenced your decision to enter the healthcare field?
Certainly! I grew up in a military family, as my father was a US Army officer and my mother was a nurse. Due to my father's profession, we moved around a lot, making it difficult for me to answer the question of where I'm from. Although my parents are originally from Scottsbluff, Nebraska, I never actually lived there, but that's where our family roots are. As a result, I attended four different high schools, which was a significant part of my upbringing.
Despite the constant moving, one of the most influential aspects of my childhood was the strong family nucleus and the deep-rooted faith that we had. My parents instilled in us a sense of commitment and support for each other as siblings, which was crucial in navigating the challenges of moving frequently. Having to adapt to new environments, relate to different people, and remain curious and open to new experiences became important skills that I developed, even though I may not have articulated them at that time. Overall, my upbringing in a military family with a strong family bond and exposure to healthcare through my parents' professions had a significant impact on shaping my character and outlook on life.
Was there a specific moment or experience in your life that influenced your decision to pursue the healthcare field as a career. Was it a gradual realization that developed over time, or was there a defining moment or conversation that sparked your interest and set you on the path you're on now?
Interestingly, I was not particularly drawn to the sciences during my school years, although I did find them intriguing to some extent. However, it was not my favorite subject. To answer your question in reverse, I knew that I did not want to pursue more technical fields, which led me to rule them out as potential career paths. What truly sparked my interest in healthcare was during my undergraduate years as an economics major in college. I took a course taught by a faculty member who was part of our school's master's program in healthcare administration. This was during a time when healthcare was a prominent topic on the national stage due to Ross Perot's presidential campaign, and being politically inclined, I found it fascinating. The course exposed me to the complexity and uniqueness of the healthcare industry, drawing upon my family's experiences with hospitals and healthcare. It made me realize that the business and operational side of healthcare could be where I could thrive, rather than being a care provider.
St. Joseph has been supporting Arrupe since we opened our doors back in 2003. So walk us through why you chose to support Arrupe from day one?
Well, a couple of answers. First of all, I think the sisters started there, too, right? When they came to Denver, they were very marginalized. In the West, being Catholic was challenging, as it was the Wild West, and they lacked significant connections. So they had to ask for help to establish their mission. I believe we have always valued partnerships throughout the years. So you could point to several partnerships where we extended our hand, as it is a part of our story.
The interests are to strengthen our community, and for that, we need a skilled workforce. We need people who can contribute at various levels in the organization. In healthcare, many start off with entry-level roles, but then they discover the vast opportunities available and can choose different career paths. So I think of Arrupe and the students there as a way to connect with our community and help them understand the opportunities we offer.
To your point, not everyone may choose a career in healthcare, but for those who do and get inspired and excited with us, even if they don't end up at St. Joe's, it's still a huge win for the healthcare community. Once someone enters, whether it's an entry-level or mid-level position like a tech role or an RN, that career, the income, the stability, and the sense of purpose it provides are special for decades. If someone comes from poverty or a difficult situation and can become a breadwinner and a stable force in their family and community, that's an exponential win.
As we look forward to the next 20 years of the Arrupe and St. Joe's partnership, any thoughts or reflection on what's next or what you are excited for?
In my opinion, our partnership yields more benefits for us than it does for you. Your students serve as an inspiration for our team, as they represent our community and are a valuable investment. Our staff and caregivers thoroughly enjoy working with them, and it's not just a checkbox task for us, but a genuinely enjoyable experience. Whenever I run into Arrupe students in the halls or cafeteria, they are always smiling and interacting with others. I can't express enough how much our staff gains from this interaction, as they witness the rapid growth and development of these young individuals throughout their years with us. It's truly enriching to be a part of this journey. I would convey that the benefits go both ways - it's a win-win situation. However, it's also incredibly satisfying for our organization to be involved in such a meaningful endeavor.
I am proud to see Arrupe alumni making significant contributions and having successful careers across the United States. They often return with kind words of appreciation for the faculty, staff, and corporate work study supervisors who have supported them along the way.
What are your thoughts on the importance of students receiving earlier access to real work experience? Is this important?
The exposure and the maturity that comes along with seeing the real world and experiencing how academic learning at school pairs with professional experience, is just awesome. The other key item is the exposure to possibilities. I never knew you could be an ultrasonographer and make $120,000 for example.
But I think there are so many possibilities in the healthcare field, and with this work experience, the exposure is so valuable. Pharmacy might be a wonderful option, or imaging, or becoming a surgical tech or scrub. All of these fields have tremendous economic viability for people. I think that's also something that is important to highlight, to pull back the curtain a little bit on the various opportunities within healthcare.
There's a subtle effect that may not always be fully appreciated in the context of upward mobility and higher education being seen as a gateway. Another aspect that occurs when a student enters St. Joe's is that they start building a network, even if they are not aware of it at the moment. One of the gaps between individuals with upward mobility and those without is the access to networks, including networks of knowledge and history. I'm reminded of our Arrupe students who spend three years here, moving around in different departments. By the time they leave, they have established a network of healthcare professionals they can rely on, and this network can benefit them indefinitely.