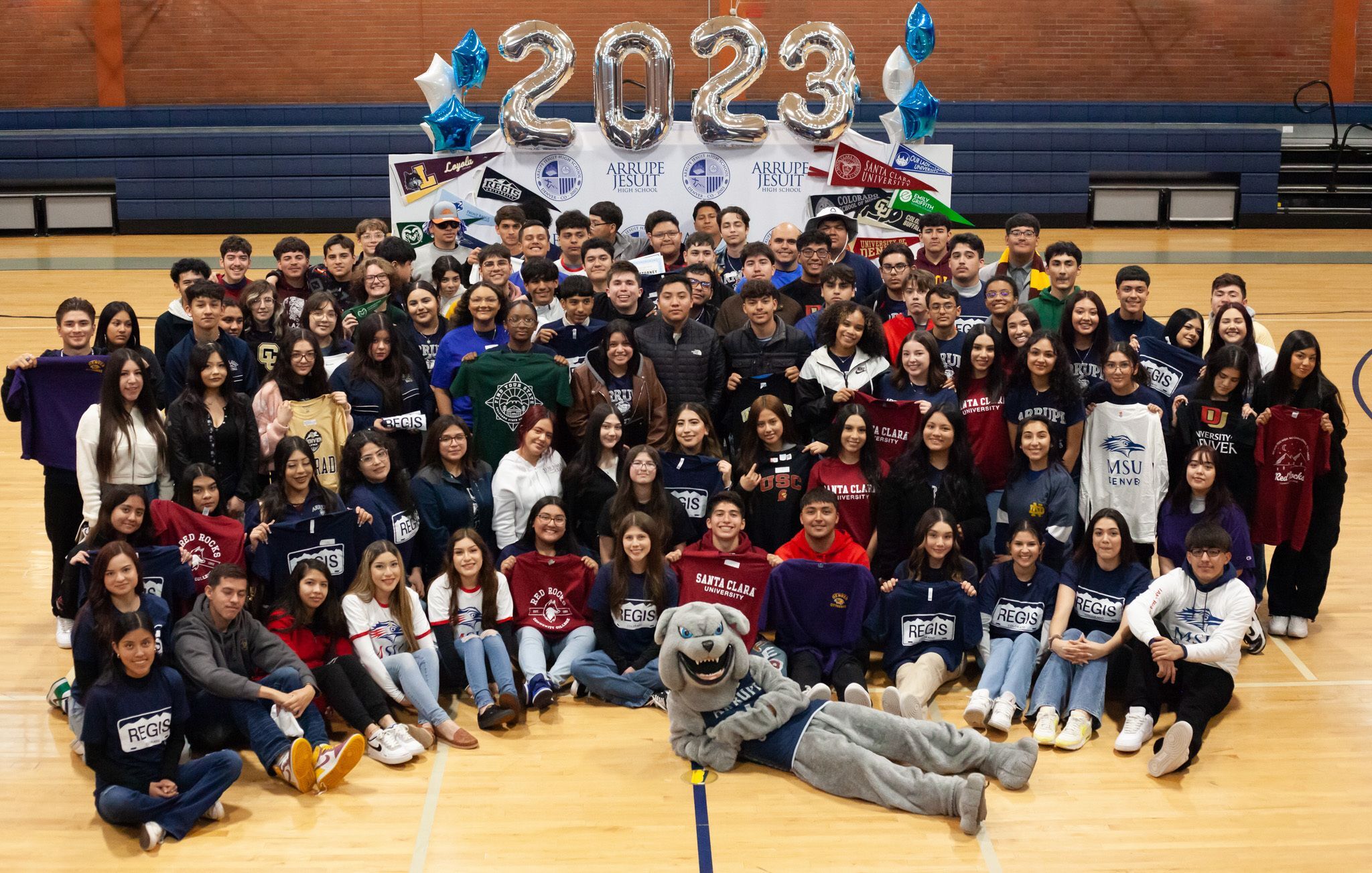 University of Notre Dame, Santa Clara University, Colorado School of Mines, University of Southern California, Regis University. These are just a few of the schools that the class of 2023 will be attending in the Fall. As far as events go at Arrupe, it's difficult to have a favorite, but we recently hosted one of the most special events of the year known as Senior Community Day. This is an occasion and a tradition that brings together the school and the wider community to honor the hard work and accomplishments of its graduating senior class. This surprise event, filled with excitement and heartfelt recognition, provided an opportunity to celebrate the achievements of this incredible group of young men and women.
The statistics are truly inspiring for the class of 2023: 100% of the graduating class has been accepted into a college or university, marking yet another extraordinary milestone. Their accomplishments were a testament to their resilience, academic prowess, and unwavering determination. Among the graduates, 73.5% were first-generation high school graduates, breaking barriers and setting an example for future generations. Furthermore, 98% of the class are the first in their families to embark on a college-bound journey.
Faculty, staff, students, families, and community members eagerly gathered for the much-awaited Senior Community Day event. This joyous occasion recognized the tireless efforts and accomplishments of these students who have devoted the past four years to their education at Arrupe Jesuit. This event served as an opportunity for the entire Arrupe community to celebrate the various choices the class of 2023 have made regarding where they will continue their education. The collective effort and dedication of the students were showcased and students were also joined by university representatives who stepped forward to congratulate and take a photograph with the graduates.
Senior Community Day also provided an opportunity to celebrate the remarkable achievements in scholarships earned by the Class of 2023 which reached a total of $20.8 million. The scholarships represented not only financial assistance but also the recognition and validation of the seniors' exceptional talents, abilities, and potential. This event was more than just a celebration of academic accomplishments; it was a day brimming with emotion, gratitude, and a profound sense of community. It symbolized the culmination of years of hard work, dedication, and sacrifices made by the students, their families, Arrupe Jesuit faculty and staff and the entire external community who've come to support them throughout their journey.
Class of 2023: By The Numbers
17th graduating Class of Arrupe Jesuit

98 seniors

73.5% are the first-generation high school graduates

98% will be the first in their families to attend college

$21.1M earned in merit and community-based scholarships

Accepted and will attend 18 colleges and universities from coast to coast (including Santa Clara University, Loyola University Chicago, Notre Dame, University of Southern California, University of Denver and Colorado School of Mines).
Universities Attending
Colorado School of Mines

Colorado State University

Community College of Denver

Emily Griffith Technical College

Front Range Community College

Loyola University Chicago

Metropolitan State University

Our Lady of the Lake University

Pickens Technical College

Red Rocks Community College

Regis University

Santa Clara University

The Master's Apprentice

University of Colorado at Boulder

University of Denver

University of Notre Dame

University of Southern California
Scholarship Totals
2 Full-Tuition Scholarships to Colorado School of Mines

2 Loyola University Chicago Cristo Rey Scholarships

1 Our Lady of the Lake - Futuro Scholar

14 Regis-Arrupe Scholarships

1 Santa Clara University Cristo Rey Scholarship

1 Dell Scholarship

1 LAEF Scholarship

1 Lockheed Martin STEM Scholarship

2 Latina's First Foundation

10 Daniels Fund Scholarships

7 Deloitte Scholarships

2 Gates Scholarships

2 Greenhouse Scholarships

1 Howley College Scholar

1 Paul Newland Scholarship- Hercules Industries, Inc.

2 Porter Billups Scholarships

1 Yes! Communities Scholarship