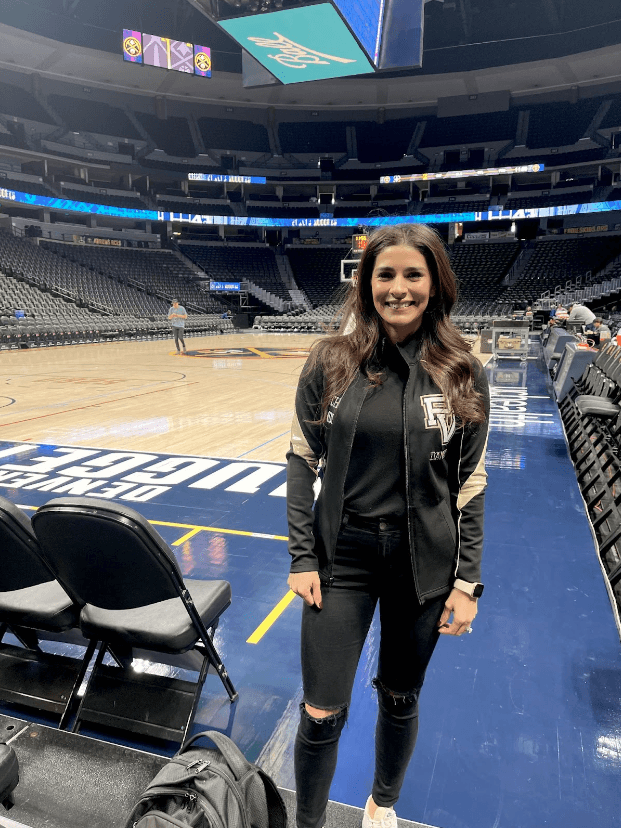 Arrupe Jesuit launches its first ever cheer program. Coach Mandi Lopez brings her winning experience and passion for cheerleading to AJHS.
Arrupe Jesuit High School is proud to announce that Coach Mandi Lopez is joining the AJHS community and starting the first ever cheer program at the school. The new team, who will cheer on our athletes at home volleyball and basketball games, is open to girls and boys in the current Freshmen, Sophomore, and Junior classes, along with 8th graders who will attend Arrupe next fall.
Coach Mandi Lopez has been a head cheer coach for 9 years and has had an illustrious career in cheerleading, most recently serving as the assistant poms coach at Prairie View High School and Head Cheer Coach at Bishop Machebeuf. Throughout her time coaching, she has won two state titles in two different states, two state runner up titles, and numerous league and coach of the year awards. She is most proud of the relationships she has made with parents and athletes during all her years of coaching.
Coach Lopez is thrilled to be joining the Arrupe Jesuit family and to start up the first cheer program Arrupe has ever had. When asked about her new role, Coach Mandi said, "I am very excited and thankful to be a part of the Arrupe Jesuit family! It is an honor to start up the first cheer program Arrupe has ever had. I am looking forward to getting to know everyone and to see God's blessings through this new adventure!"
The addition of a co-ed cheer program is a great step forward for Arrupe Jesuit High School. It provides a new opportunity for students to get involved in extracurricular activities and to showcase their school spirit. Cheerleading is also a great way to build confidence and develop lifelong skills, such as communication, leadership, and teamwork.
We are confident that Coach Mandi Lopez will lead the Arrupe Jesuit cheer program to great heights. Her passion for coaching and commitment to building strong relationships with her athletes and their families make her the perfect fit for this role. We cannot wait to see what the future holds for the Arrupe Jesuit cheer team under Coach Mandi's leadership. We wish Coach Mandi and the Arrupe Jesuit cheer team all the best in their new endeavor. Let's Go Generals!!!
All interested students are encouraged to attend the parent meeting on April 25th at 6:30pm. Tryout dates are: May 11th and 15th from 4:30pm-6:30pm.