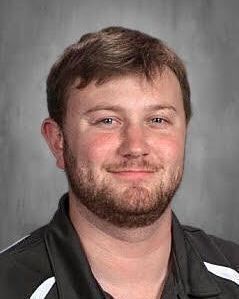 Arrupe Jesuit High School is excited to announce its new Director of Athletics and Activities, Thomas McCarty. Mr. McCarty comes to our community with nearly every level of experience in Denver Catholic athletics — as an athlete, coach, administrator and referee! He will begin his position at Arrupe Jesuit on September 1, 2022.
Mr. McCarty joins Arrupe Jesuit from Bishop Machebeuf High School, where he has served as Athletic Director. He is a Denver native and attended St. Pius X and Bishop Machebeuf, all the while playing a variety of sports and finding particular success in soccer and basketball. After high school, he attended Metropolitan State University of Denver, where he completed a bachelor's in Sport Management and a minor in Business Management. Over the past 5 years, he has served at Bishop Machebeuf as Athletic Director, Assistant Athletic Director, and coach. Additionally, he is the Varsity Volleyball Director for Catholic School Athletic League (CSAL), which includes all Catholic grade schools throughout the Denver Metro Area.

Mr. McCarty is looking forward to this new role and says, "I am extremely grateful and humbled to have the opportunity to serve the Arrupe Jesuit community as the Director of Athletics and Activities! I have a passion for working in educational athletics and leadership formation. I really enjoy helping students find their passion and chase their dreams and aspirations. Go Generals!"

Fr. Nugent notes, "We are blessed to have Mr. McCarty join our school community. He will be a great asset as we move forward with several strategic objectives: developing student leadership roles, expanding our athletic offerings and engagement, showcasing student performance opportunities for activities like Music and Theater Clubs, and enhancing our holistic student formation. In addition to his strong commitment to faith formation, Mr. McCarty brings great passion and creative thinking to Arrupe Jesuit. I know our students will really enjoy getting to know him... just ask him about his travels this summer for sporting events and concerts!" 
Mr. McCarty will work closely with Mr. Mike Lovinguth, who has stepped into the new role of Assistant Principal for Student Services. Mr. Lovinguth will oversee the work of various departments and formation programs, including Athletics & Activities. 
This additional Assistant Principal position is another important development of our school's strategic plan, as we seek to deepen our students' experience in academics, CWSP and extracurriculars. "Mr. Lovinguth is a seasoned educator who has had an incredible impact on Arrupe Jesuit since returning to us five years ago. I am so grateful for his intentionality and focus on our school values of faith, community, opportunity and leadership. The future is certainly bright for our Generals with Mr. Lovinguth's leadership, as he guides them in their growth toward embodying the Profile of the Graduate at Graduation," Fr. Nugent notes.
 
Please join us in welcoming Mr. McCarty to Arrupe Jesuit High School and supporting Mr. Lovinguth as he assumes his new responsibilities in our school community.