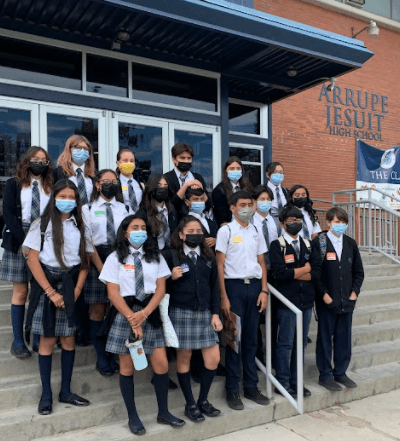 Each year during the fall semester, Arrupe Jesuit welcomes groups of 8th-grade students from middle schools around the Denver Metro Area to visit the school for a day, attend classes, learn about our school and program offerings, and get a feel for student life. Most of these visits are organized through the schools, but individual students can also schedule visit days if their school hasn't arranged one.
This fall, we were able to bring 220 students to visit Arrupe through our 8th Grade Visit Program! We hope to see many of them come through the application process this winter, and start as Freshmen next fall.
Thank you to our Admissions team for organizing and hosting the visits, to our teachers for welcoming additional students to their lessons, for our staff and ASC volunteers for assisting with transportation, our CWSP and Pastoral departments for their presentations, and our kitchen staff for feeding our visitors!
The Class of 2026 has endless potential, and we are excited to meet them.