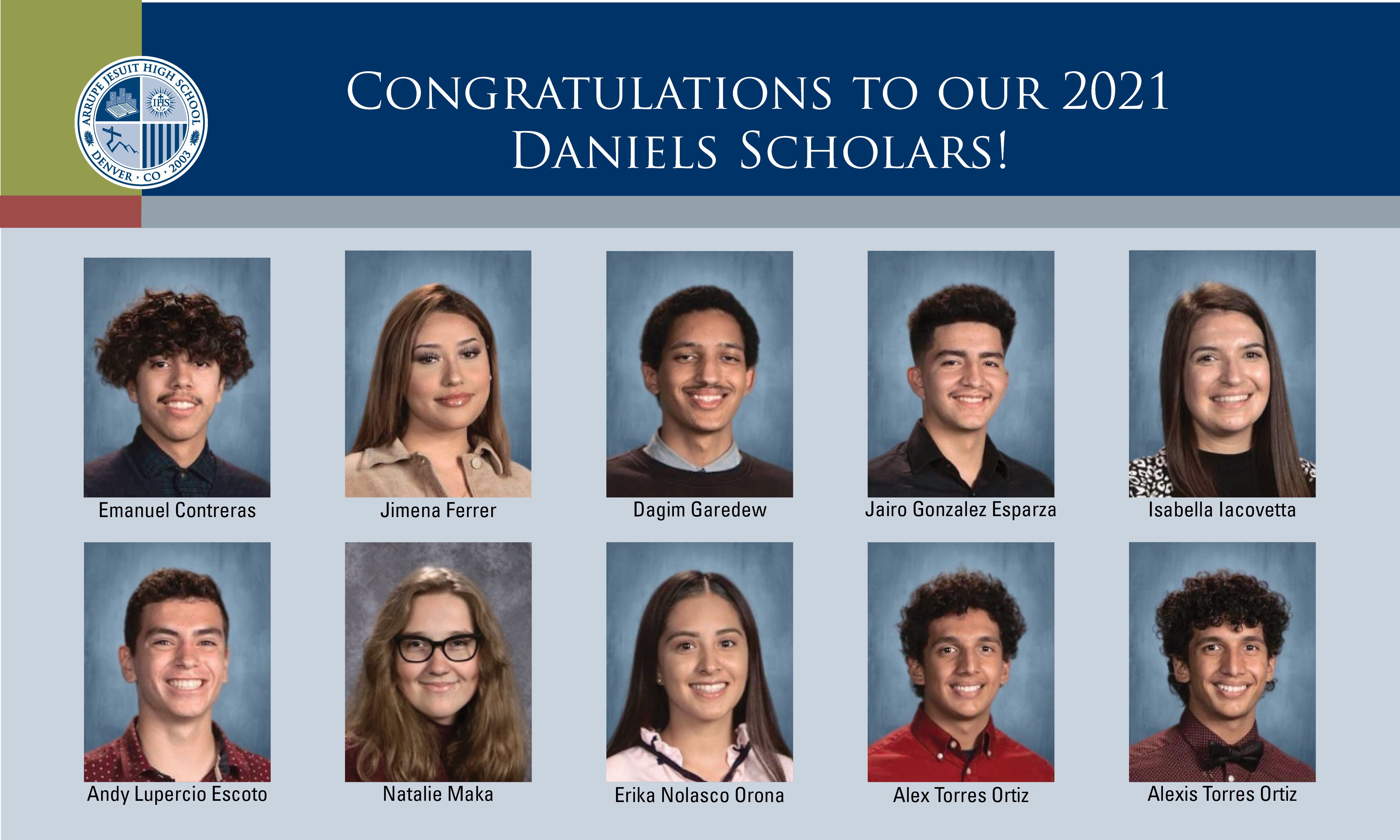 We are proud to announce that 10 Seniors from Arrupe Jesuit High School have been awarded the Daniels Scholarship. Congratulations to Emanuel Contreras, Jimena Ferrer, Dagim Solomon Garedew, Jairo Gonzalez Esparza, Isabella Sophia Iacovetta, Andy Lupercio Escoto, Natalie Maka, Erika Daniela Nolasco, Alex Torres Ortiz, and Alexis Torres Ortiz. 
Daniels Fund announces 2021 Class of Daniels Scholars
240 students selected for Daniels Scholarship Program
Complete list available at DanielsFund.org/2021DanielsScholars
 
DENVER, March 22, 2021 – The Daniels Fund has announced the names of 240 high school seniors from Colorado, New Mexico, Utah, and Wyoming who have earned a place in the Daniels Scholarship Program. Daniels Scholars demonstrate the strength of character, leadership potential, and a commitment to serving the community that will position them for success. They are selected because they possess these and other distinguishing qualities and values that were important to founder, Bill Daniels.
Nearly 2,000 students completed the application for the Daniels Scholarship Program. Of the 240 students selected as 2021 Daniels Scholars, 135 are from Colorado, 29 are from New Mexico, 37 are from Utah, and 39 are from Wyoming.
"The 2021 cohort is impressive and filled with outstanding young people who have promising futures ahead," said Hanna Skandera, President and CEO of the Daniels Fund. "We're delighted to have them join the family of Daniels Scholars and look forward to being a part of their journey through college and beyond."
With this year's announcement, approximately 4,600 students have received the Daniels Scholarship. At any given time, approximately 900 Daniels Scholars are attending nearly 200 colleges and universities throughout the United States. Since 2000, more than $220 million in scholarships has been awarded through the Daniels Scholarship Program.
Daniels Scholars may attend any accredited nonprofit college or university in the United States. The program covers up to $25,000 per year in educational expenses that remain after any other scholarships, financial aid, and the Expected Family Contribution (EFC) have been applied.
Motivated high school seniors graduating in 2022 are encouraged to visit DanielsFund.org this fall to apply online for the Daniels Scholarship Program.
Images that are approved for use in coverage may be downloaded here.
About the Daniels Fund
The Daniels Fund, established by cable television pioneer Bill Daniels, is a private charitable foundation dedicated to making life better for the people of Colorado, New Mexico, Utah, and Wyoming through its grants program, scholarship program, and ethics initiative. Visit DanielsFund.org to learn more.

###