Luz, AJHS Class of 2018, Student at Loyola University Chicago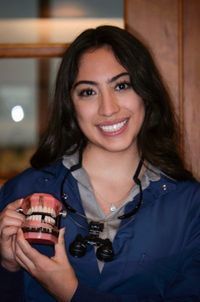 Coming from a high school that emphasizes whole-person care, the corporate work study program (CWSP) was introduced to allow students like myself the opportunity to receive professional experience and develop real-world corporate and life skills. I was only fourteen when I was placed at Denver Tech Dentistry as my first CWSP job. I felt like a small fish in a big sea of unfamiliar and intriguing territory. It was here where I began planting the seeds for my passion for dentistry. This program allowed me as a high school student to become exposed to a wide variety of careers all while acquiring desirable job experience. My experience with Denver Tech Dentistry allowed me to further develop my capabilities in leadership, adaptability, and networking.
To this day I continue to intern at that practice when I go home during my college breaks. I have now transitioned into a leadership position training incoming high school student in becoming dental sterilization technicians. As a first-generation college student, being a part of this program, I found myself surrounded by other students who had a similar background to mine, students who like me were the first in their family to attend college, students who mentored me as I was just beginning my journey. It's most important for me to be involved in programs that pave the way and provide resources for those students who, like me, are historically underrepresented in college campuses.
Having the opportunity to intern at a dental office has not only grown my interest in dentistry but has made me aware of the health disparities low-income individuals and families must navigate. Often people are limited to what their insurance can afford and do not receive proper care for their teeth. My hope is to attend dental school and be able to provide my services to those most in need.