Admissions Ambassadors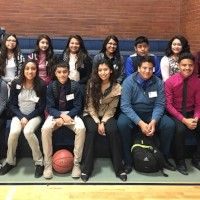 "Being an Admissions Ambassador is an opportunity to meet and bring people into the family we have created at Arrupe. We are the first impression of Arrupe to our new brothers and sisters."
- Juan, Class of 2019
Admissions Ambassadors assist the Admissions Office by participating in the recruitment of students and families to Arrupe. Throughout the course of the year they will help in Admissions events such as 8th Grade Visits, Open House, 8th Grade Interviews, Freshmen Registration and Freshmen Orientation. During 8th Grade Visits, Admissions Representatives will serve as hosts to 8th grade students and will guide the 8th grade students to classes and lunch. For the remaining Admissions events, Admissions Representatives will be assigned specific tasks by the Admissions Office. Served hours count as community service hours.
By participating in this club, an Arrupe student can earn up to 70 hours of community service hours in one school year!
More than 150 students participated in the last year!