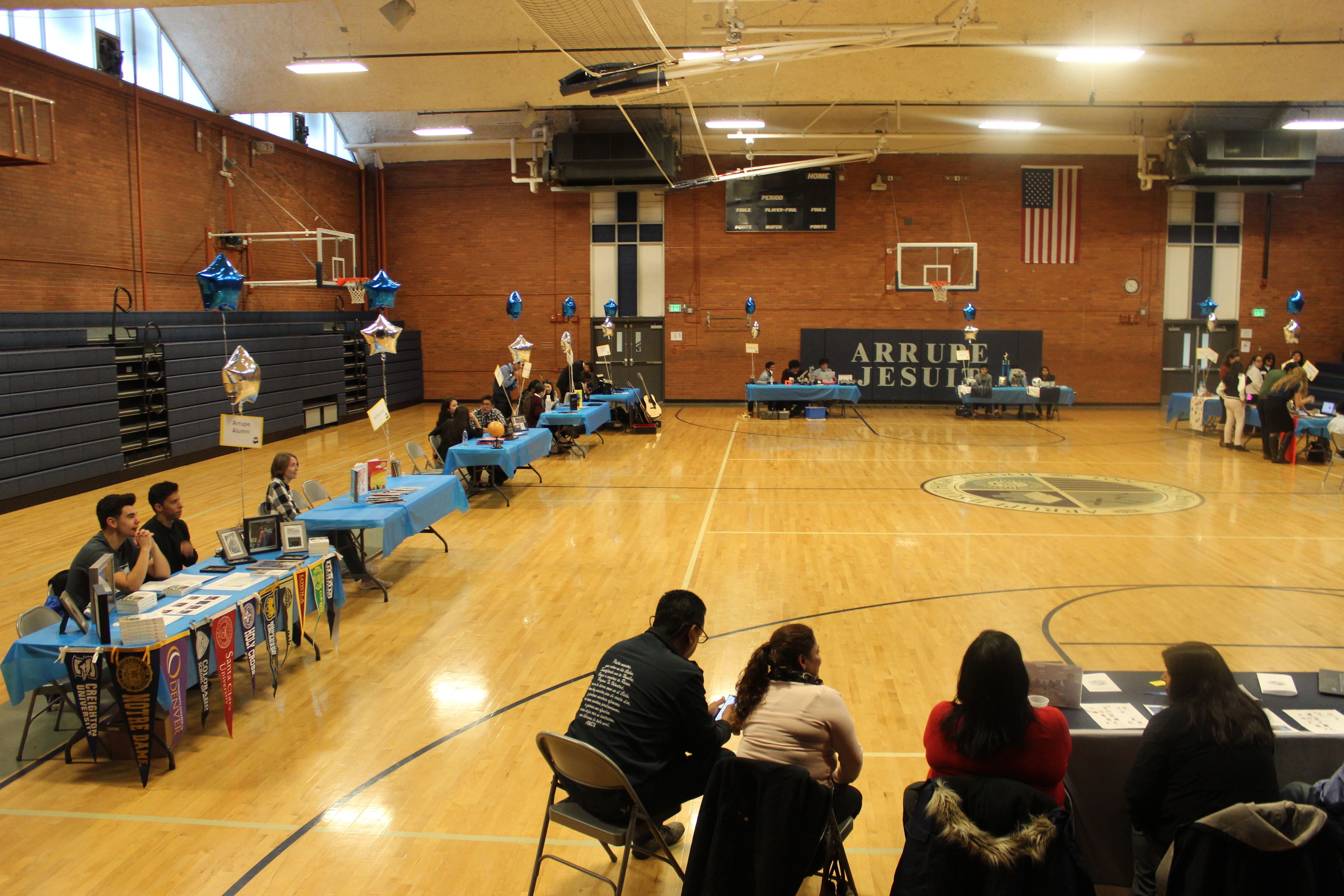 We are excited for you to learn about our college prep classes, Corporate Work Study Program, athletics and student clubs! 
Here are 5 tips on how to have a successful Open House visit with us:
1. Arrive on time
All tours will begin at your scheduled time. We will greet you at the main doors of the school.
2. Bring a list of questions
Here are some very important questions to ask:
What are Arrupe Jesuit's expectations for the students?
How many extra-curricular activities are there and what are they?
What is the Corporate Work Study Program and how does it work?
How does the school help in college preparation? 
What is the application process?
What are the most important deadlines for the admissions process?
3. Grab an admissions application
Admissions Applications will be in the cafeteria with the Admissions Office.
4. Follow us on social media for updates on events and important dates
We have several special events for our students and families throughout the year so be sure to follow us on social media to stay up-to-date on important happenings!
5. Have fun and don't forget your gift from Arrupe!
Be sure to grab your free gift from Arrupe students on your way out!
---
¡Estamos emocionados de que aprendan sobre nuestras clases de preparación para la universidad, el Programa de Estudio y Trabajo Corporativo, y nuestros deportes y clubes de estudiantes!
Aquí hay 5 consejos sobre cómo tener una visita de Casa Abierta exitosa con nosotros:
1. Se puntual
Todos los recorridos comenzarán a la hora programada. Te recibiremos en las puertas principales de la escuela.
2. Trae una lista de preguntas
Aquí hay algunas preguntas muy importantes que hacer:
¿Cuáles son las expectativas de Arrupe Jesuit para los estudiantes?
¿Cuántas actividades extraescolares hay y cuáles son?
¿Qué es el Programa de Estudio del Trabajo Corporativo y cómo funciona?
¿Cómo ayuda la escuela en la preparación para la universidad?
¿Cuál es el proceso de aplicación?
¿Cuáles son los plazos más importantes para el proceso de admisión?
3. Obtenga una aplicación de admisión
Las aplicaciones de admisión estarán en la cafetería con la Oficina de Admisiones.
4. Manténgase actualizado con nuestro boletín y en las redes sociales para recibir información sobre fechas importantes
Tenemos varios eventos especiales para nuestros estudiantes y familias durante todo el año, síganos en las redes sociales. 
5. ¡Diviértanse y no olviden su regalo de Arrupe!
¡Al salir asegúrese de obtener su regalo de los estudiantes de Arrupe!