Tuesday: Vinh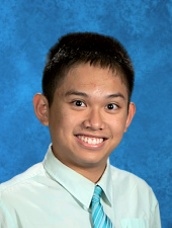 During our Experimentation session at the end of Day 1, we had everyone come up with ideas for an experiment that they could try here at Nelnet. And we walked our participants through how to devise a good experiment they would try if nothing was in their way. They then shared at their respective tables their ideas and then voted for the best idea at the table. Our high school intern from Arupe, Vinh Le, had an idea that he was happy to share with 60+ Nelnet associates. He took to the front of the room and shared his idea on how he would make the onboarding process more fun. Once he presented, the room applauded him and the idea. He is ambitious and has some ideas.
When we wrapped up, he came by to chat and I took the opportunity to "interview" him on his day. Here is how it went:
Chris: "I am glad you were able to attend all day today. What did you think of the day? What was one big nugget that you'll take away from the sessions today?"
Vinh: "I loved the topic of Experimentation!"
Chris: "What about it did you love?"
Vihn: "Because experimentation breaks our limits and get us out of our own comfort zone. Thus, breaking our own limits beyond our understanding."
Chris: "How does it break your own limits beyond your understanding?"
Vinh: "it helps me become more curious in finding out more questions… questions that haven't yet been answered."
I got to tell you, he was amped. It made my day because of the excitement. If only we all had the enthusiasm that he has… Think of the possibilities…
I share this with group thinking there is a way to capitalize on this in some way and more importantly, continue to impact him in a positive way as it relates to his experience here. I was thinking of publishing this in Bits and Bytes, perhaps a blog on TheDen, maybe some other avenue. What are your thoughts?
Chris Dunn