Tuesday: Elva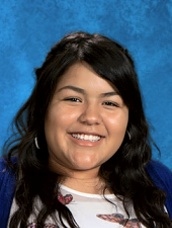 McConnell Fleischner Houghtaling, LLC would like to recognize Elva "Isabell" by nominating her for the Employee of the Month award. We were very excited Isabell chose to join our team at MFH for a second year. It has been a pleasure to witness Isabell's evolution from her first year at MFH.
Isabell navigates the pressure and challenges of working in a law firm with maturity. Isabell has adapted to her environment by increasing her work-knowledge and taking initiative to further her job-skills. Isabell is now a seasoned receptionist, handling all incoming phone calls and transfers for the entirety of her day. Isabell accepts various tasks with grace and completes each task with pride. There is no task too big or too small for Isabell - this ethos will take her far in life. Isabell's initiative to seek out new and different projects, combined with her ability to complete those projects successfully, has improved at a rate that deserves recognition.
Isabell has been incredibly helpful with a multitude of projects this year. Isabell used her creativity to create a beautiful sign for a company baby shower. Isabell worked diligently on several tedious remodeling projects as well during this past month. Isabell's positive attitude and admirable work ethic go above and beyond, particularly of someone her age. Isabell's interpersonal communication skills rival most adults.
Isabell is building upon the foundation that she built her first year with us and adding even more value to her work product. Witnessing Isabell's growth, both as an individual and as a colleague, has been a pleasure. Isabell is a valued member of the MFH team and we look forward to her days at the office. MFH would like Isabell to be recognized for her demonstrated growth, ability and all-around positivity. Isabell's confidence continues to grow while working at MFH and we have no doubt that good fortune and success abound for her future.
We cannot think of a more deserving candidate than Isabell for the Employee of the Month award. Please reward Isabell's great efforts and service by presenting her with this award.