Wednesday: Jessica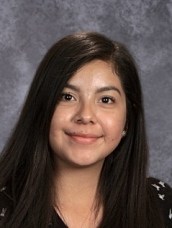 I would like to nominate Jessica ­­­­­­­­­­­­­­­­­­­­­for the Arrupe Corporate Work Study Program Student of the Month. Due to reorganization in our department structure, Jessica was reassigned to a new supervisor mid-year. This resulted in a significant shift in her responsibilities and reporting structure. Prior to the realignment Jessica worked primarily in the medical records department. Although her responsibilities were varied, she had very little interaction with our employees and had no direct patient contact. Her new responsibilities expose her to several different areas within the UCHealth Eye Center. She is now working in multiple sub specialties and has direct contact with our employees, patients and physicians. Jessica handled this transition with a positive attitude toward her new work responsibilities, new co-workers, and our patients. Some of her new responsibilities include the following.
Room Sweeps: This entails walking through all of our patient reception areas and checking in with each patient to make certain they have not been waiting too long. She also carries as basket of snacks that she offers to our patients.
MDValuate Survey Project: As our patients complete their visit with the doctor, Jessica helps them fill out an electronic patient satisfaction survey. Some of our patients have difficulty seeing the tablet so Jessica reads the questions and submits the information for those patients.
First Floor Greeter: Jessica has also trained with our front desk greeter to help direct our patients to the appropriate floors and clinics.
Mail Distribution: As a multispecialty practice in a 4 story building, we receive a wide variety of a mail for each subspecialty. Jessica is being trained on the appropriate distribution of each document.
Designed New Patient Consent Forms: Our Ophthalmic Supervisor identified a need to update one of our forms and Jessica took on the project with enthusiasm. Using her computer skills and creativity, she was able to redesign the document.
Jessica transitioned from working in the Medical Records room with one other person to rotating to all of our clinics and interacting with 50-75 people a shift. She is very versatile and quickly adapts to whatever task she is assigned. She arrives for her shift with a smile on her face and willingness to "jump in" and begin her responsibilities for the day. Her commitment to quality is evident by the way she approaches her tasks and suggests new ideas to her supervisor. Jessica's confidence and skill set have grown tremendously over the last year and we are all very proud of her. For all of these reasons I believe that Jessica should be considered for the Arrupe Corporate Work Study Program Student of the Month.